Buying A Refrigerator?
REFRIGERATOR FACTORS TO CONSIDER
Refrigerators have never been cooler! While it's true that the main reason for your refrigerator is keeping food fresh, you'd be amazed by all of the latest styles, features, and storage solutions available. Whether you're buying a refrigerator for the first time or replacing an existing one, keep in mind that with proper care and maintenance it is a long term investment that can operate for 15 years or more. There are a variety of refrigerators to choose from. To pick the one that's right for you, you'll want to consider your family's current and future needs. Try selecting a refrigerator that will fit your lifestyle for years to come. There are a few factors you should keep in mind when buying a refrigerator. We recommend you consider the following: your choice between a single or French door refrigerator, and whether you want a water and ice dispenser, are just a few key questions to ask yourself. Another thing to take note of is the counter-depth of your space. These factors are all important before you make your purchase. The following information will go over the different types of refrigerators so you will know what to look for when buying a refrigerator.
Selecting the Right Refrigerator For Your Space
SELECTING THE RIGHT REFRIGERATOR TYPE FOR YOUR SPACE
The amount of space you have, the design of your kitchen, and your budget should all factor into the type of refrigerator you select.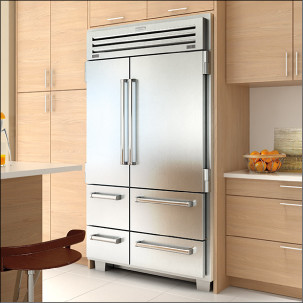 Refrigerator Types
COUNTER DEPTH REFRIGERATORS
Counter depth refrigerators simulate a built-in look for a more affordable price than built-in models. They are freestanding, but have a shallower depth (less than 24") and less capacity (on average, 22 cu. ft.), which enables a more flush fit with surrounding cabinetry. Counter depth refrigerators can be configured as side-by-side, top-freezer, French door, or full-door bottom-freezer units. You can also add panels for a more customized look to match your kitchen's décor.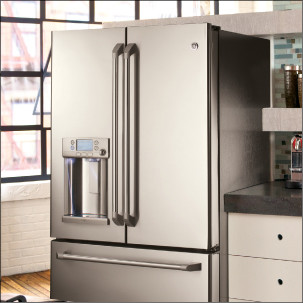 FREESTANDING REFRIGERATORS
Freestanding refrigerators can stand alone because they have panels on both sides that create a complete, finished look from any angle. They are less expensive than built-in versions, and hold a cabinet-depth size of more than 30". Freestanding refrigerators also have larger storage capacity.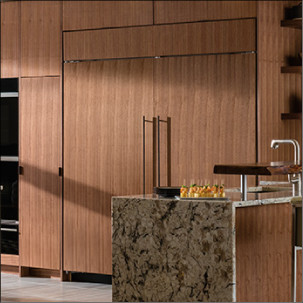 BUILT-IN REFRIGERATORS
Built-in refrigerators are finished on the front and fit flush with the surrounding cabinetry for a sleek, high-end look. They are designed to fit a cabinet-depth of 23 ½" – 27" and can be customized with wood cabinetry panels to match the style of your kitchen.
WHERE FORM MEETS FUNCTION
There are various styles of refrigerators on the market, so your selection will really come down to personal preference. While reading through this refrigerator buying guide, consider your food buying habits. If you shop infrequently and stock up on frozen foods, you'll need more freezer space. If you buy a lot of fresh foods, you'll want easy access and storage space in the refrigerator.
Think about your family. Do you have children or folks in a wheelchair that need access at a lower level? Is bending down a problem? Are you on a tight budget? The answers to these questions will help determine the style you choose when buying a refrigerator.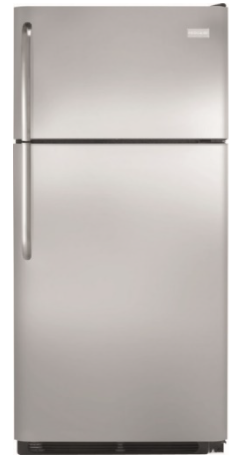 Refrigerator Styles
TOP-FREEZER REFRIGERATORS
Top-freezer refrigerators are a traditional and economical style of refrigerator with lots of storage space (up to 24 cu. ft. capacity). The freezer compartment sits at eye level, just above the refrigerator. Buyers who typically utilize the freezer more often than the refrigerator should consider top-freezer refrigerators, which allow them to retrieve items from the freezer with less effort.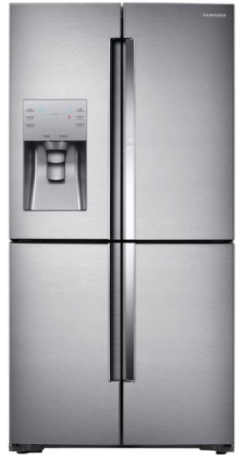 FRENCH DOOR REFRIGERATORS
French door refrigerators feature an eye-level fresh food compartment with the door split in half vertically. French doors conserve energy by allowing you to open a smaller portion of the fridge at a time. The freezer compartment is on the bottom and features either a pull-out drawer with bins or double-decker drawers. French door refrigerators are known for their extensive door bin storage, which is ideal for buyers who store a lot of beverages and condiments. These refrigerators are also perfect for entertaining, as their design provides plenty of space for platters, trays, pizza boxes, and other large items. French door refrigerators offer up to 32 cu. ft. of capacity, with 3- or 4-door models also available.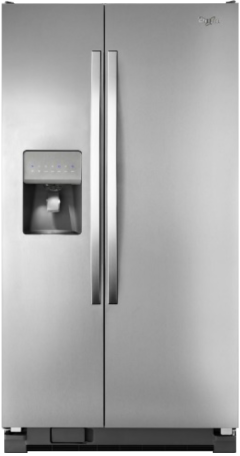 SIDE-BY-SIDE REFRIGERATORS
Side-by-side refrigerators have two separate split compartments for fresh and frozen food that are next to each other. The split design is very ideal for organizational purposes since it provides more shelves to store your food. Side-by-side refrigerators typically have more storage space than top-freezer refrigerators and bottom-freezer refrigerators, averaging up to 29 cu. ft. capacity. However, the narrower shelves make it more difficult to store wider items like trays or pizza boxes. Like French door refrigerators, the smaller doors of side-by-side refrigerators are ideal for tight, gallery-style kitchens.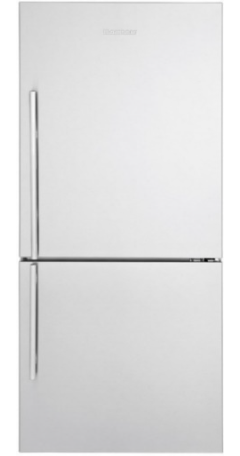 BOTTOM-FREEZER REFRIGERATORS
Bottom-freezer refrigerators are a traditional style with the freezer compartment situated below the fresh food compartment, conveniently placing fresh food at eye level. Bottom-freezer refrigerators have ample freezer storage space, so if you frequently buy in bulk or purchase large amounts of frozen foods, this style is a good choice. The bottom-mount refrigerator, as it is also called, has been increasingly popular due to its energy efficiency and capacity (up to 26 cu. ft). The freezer below is available with either a swing-out door or a pull-out drawer.
Bottom-Freezer Refrigerators →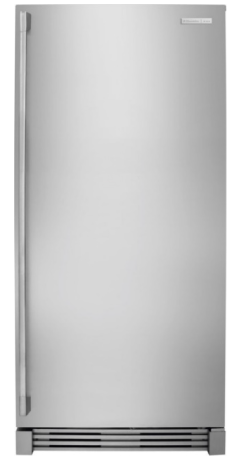 ALL REFRIGERATORS
All-refrigerators provide fresh food cooling only – there is no freezer compartment. This style is usually purchased in conjunction with an all-freezer unit, providing more storage space for both fresh and frozen foods. These units are typically more expensive than other styles and usually designed for built-in applications.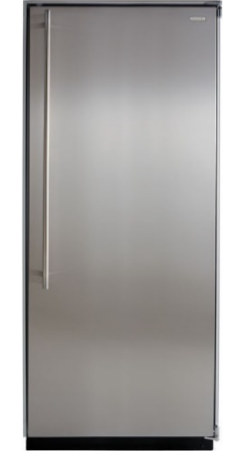 ALL FREEZERS
All-freezers store frozen foods only. They are often purchased as built-in freezer columns along with all-refrigerator units, or may stand alone for additional frozen storage space.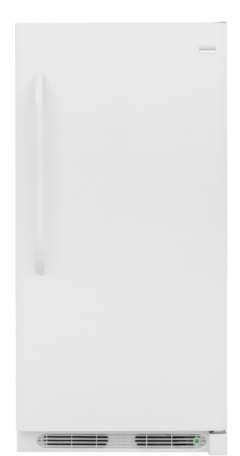 UPRIGHT FREEZERS
Upright freezers look similar to regular refrigerators. Additionally, it has shelves and baskets, making frozen foods easier to organize and access.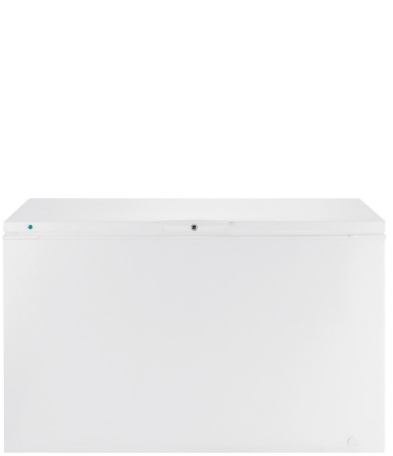 CHEST FREEZERS
Chest freezers open from the top, offering more storage than upright freezers. They can accommodate bulkier food items.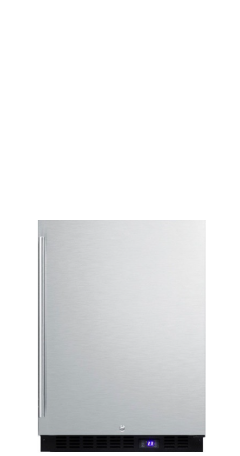 UNDERCOUNTER FREEZERS
Undercounter freezers are small freezers that fit beneath the kitchen counter and usually have less than 6 cu. ft. of storage capacity.
REFRIGERATOR FINISHES & HANDLES
The Best Refrigerator To Compliment Your Decor
As the largest and most visible kitchen appliance, your refrigerator should fit in with your kitchen style. Think about your existing décor and decide if your new refrigerator will match or complement the other kitchen appliances.
REFRIGERATOR FINISHES
Stainless steel is the most popular finish choice, but most brands also come in white or black in both smooth or textured finishes. Two of the most exciting new trends are black stainless and Slate. Black stainless is offered by LG and Samsung while Slate is a special color offered by GE. Consider splurging on a custom color finish or overlay panels on a built-in refrigerator to seamlessly blend it in with surrounding cabinetry.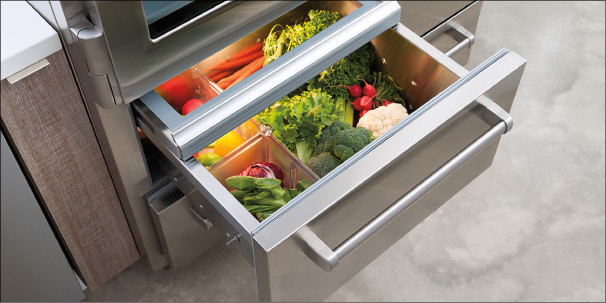 REFRIGERATOR HANDLES
In addition to finishes, handles offer another way to integrate the look of your refrigerator into your kitchen. Some higher-end brands offer a selection of handle styles – rounded, flat, straight, and curved – to match your other appliances and hardware. Other brands design models with recessed handles for a sleek, modern aesthetic.
Refrigerator Features
THE MUST-HAVE FOR EVERY KITCHEN
New refrigerators have many special features and innovations that can make life easier. From convenience, to storage options, to conserving energy, the features you select depend on what you're looking for in a refrigerator. Below are some of the newest or most popular features available.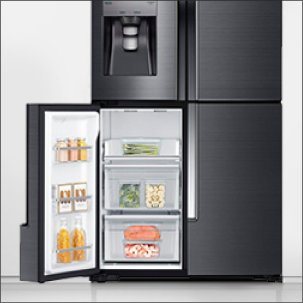 FLEX-ZONE
Flex-zone is a compartment with multiple temperature settings (typically 4) for flexible food storage options.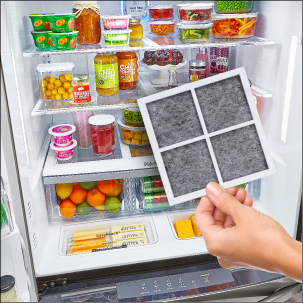 AIR-FILTRATION
Air-filtration systems neutralize bacteria to ensure an odor-free refrigerator.
ADJUSTABLE SHELVES
Adjustable shelves offer more storage capacity, versatility, and better visibility of items on all levels.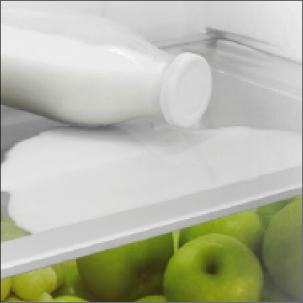 SPILL-PROOF SHELVES
Spill-proof shelves reduce mess due to spills or leaks, with a lip to prevent overflow and contamination of the shelves below.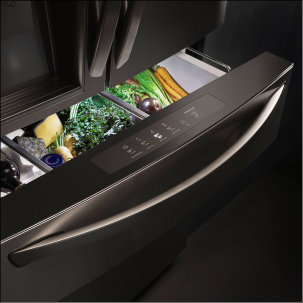 FULL-EXTENSION DRAWERS
Full-extension drawers offer ease and convenient accessibility to reach food.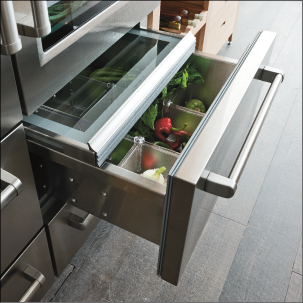 FULL-WIDTH PANTRY DRAWERS
Full-width pantry drawers keep large trays of food cold for entertaining.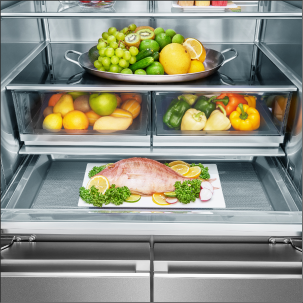 TRANSPARENT DRAWERS
Transparent drawers make it easy to see what you have on hand.
SLIDING SHELVES
Sliding shelves provide easy access to items typically out of reach and help make room for tall items.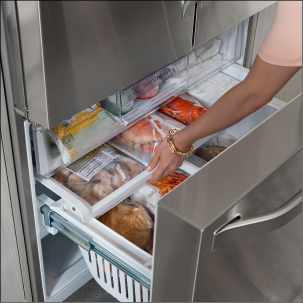 OVERSIZED FREEZER BASKETS
Oversized freezer baskets and sliding drawers help make organization and storage a breeze.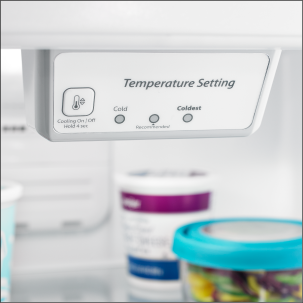 ELECTRIC TEMPERATURE CONTROLS
Electronic temperature controls can more accurately maintain humidity levels and temperature.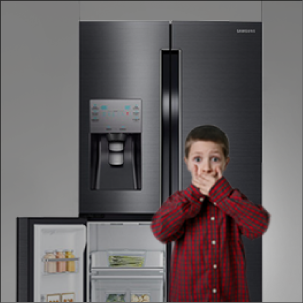 DOOR ALARMS
Door alarms sound when the door has been open for three minutes, which can affect internal temperatures.
DOOR LOCKS
Door locks ensure child safety.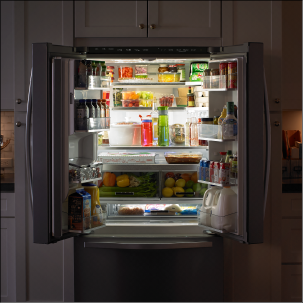 DESIGNER LED LIGHTING
Designer/LED lighting provides bright, energy-efficient light in both the fridge and freezer.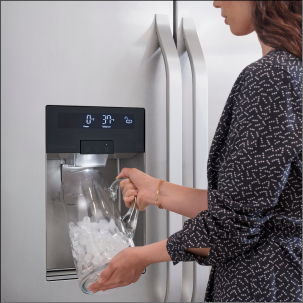 HIDDEN ICE MAKERS
Hidden ice makers save more freezer space and make ice without the hassle of refilling ice trays.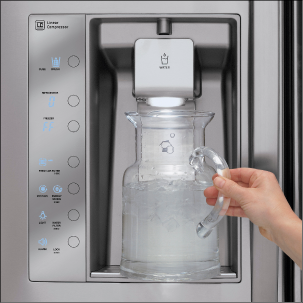 QUICK TIP
Replace your water filter every 6 months for optimal performance.
Specialty Refrigerators
ENTERTAIN WITH THE COOLEST
If you're a serious entertainer, have the space, and want to splurge, then a Wine Cooler, Beverage Center, Ice Maker or a Kegerator is the must-have refrigeration convenience for the coolest party host.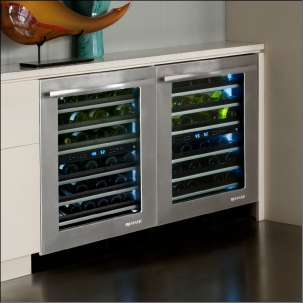 WINE COOLERS
Wine coolers, also known as "wine refrigerators," chill wine to the optimal temperature for serving. Designed for the true wine enthusiast, these refrigerators shield wine from harmful UV light, maintain the temperature to prevent premature aging from excessive heat, limit harmful vibration, and moderate humidity to keep corks moist and wine from oxidizing. They are available in a wide range of sizes and styles, including models that offer multiple zones that allow you to specify the exact temperature for various varietals in your collection, be it red, white, or champagne.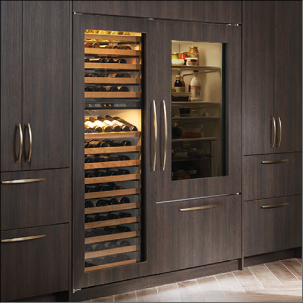 BUILT-IN WINE COOLERS
Built-in wine coolers are retrofitted into your existing cabinetry, closet, or wall alcove. Whether you are looking to optimize storage in a tight space or simply desire a seamless designer look, integrating a built-in wine refrigerator into your kitchen or cellar is the perfect answer.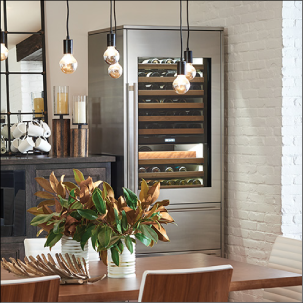 FREESTANDING WINE COOLERS
Freestanding wine coolers are designed with flexibility and mobility in mind. Because they stand freely in your home, you have the ability to move them from one room to another to suit your needs. These models are ideal for renters who wish to take the unit with them upon moving.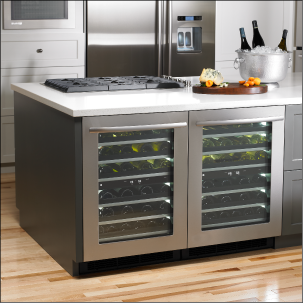 UNDERCOUNTER WINE COOLERS
Undercounter wine coolers fit beneath the counter in a kitchen, bar, office, or outdoor space, providing a space-efficient, economical solution for wine storage with great aesthetic appeal. Sizes range anywhere from 6- to 20-bottle capacity.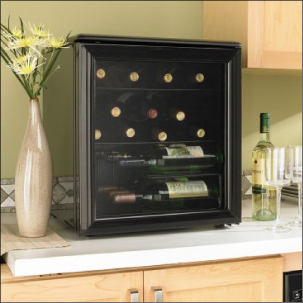 COUNTERTOP WINE REFRIGERATORS
Countertop wine refrigerators are ideal for wine lovers who live in a small apartment. Placed on a countertop, the unit takes up the space of a microwave oven and usually holds between 6 and 20 bottles of wine.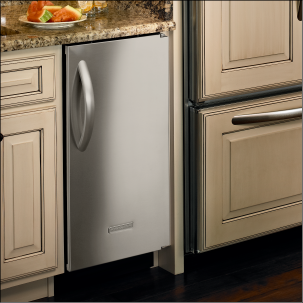 ICE MAKERS
Ice makers are the best solution if your standard refrigerator doesn't make ice or doesn't generate enough ice to serve the needs of your family or business. These units often produce multiple types of clear ice, ranging from standard cubes to flaked ice, crushed ice, and ice nuggets.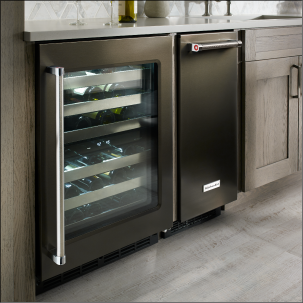 UNDERCOUNTER ICE MAKERS
Undercounter ice makers are small units that make up to 65 lb. of ice per day. These units must be connected to a water line. Some also require a drain and are available with or without a built-in drain pump. These models are perfect for wet bars or entertaining.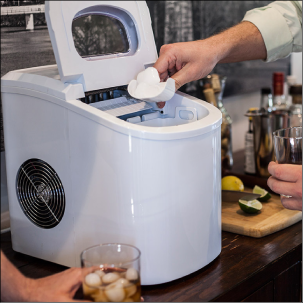 PORTABLE ICE MAKERS
Portable ice makers are perfect for barbecues and other outdoor events. No installation or drain required – just plug it in and add water to the reservoir to start producing ice. Some units make up to 35 lb. of ice per day.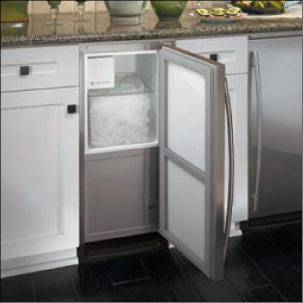 FREESTANDING ICE MAKERS
Freestanding ice makers are ideal when a built-in unit is not an option. They're also useful for commercial applications.
Kegerators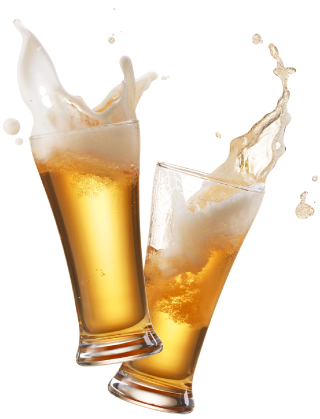 ENABLE YOU TO KEEP A TAPPED KEG OF BEER CHILLED
Kegerators are growing in popularity in homes as they enable you to keep a tapped keg of beer chilled for longer periods. A refrigerated compartment stores a half-barrel keg, which connects to an exterior tap for pouring.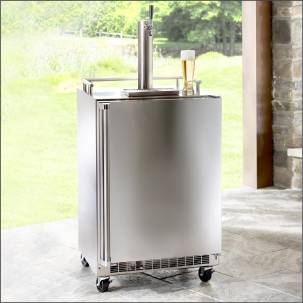 FREESTANDING KEGERATORS
Freestanding kegerators offer mobility by way of rolling castors.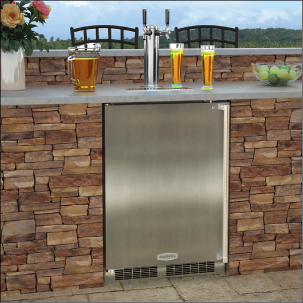 UNDERCOUNTER KEGERATORS
Undercounter kegerators are freestanding units that fit into existing cabinets.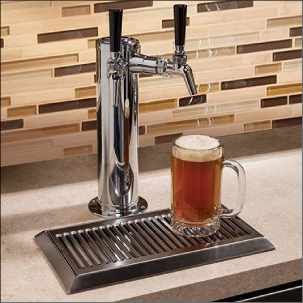 BUILT-IN KEGERATORS
Built-in kegerators are more complex in design, with the refrigerator compartment separate from the permanently affixed tap.
Refrigerator Sizes
CAPACITY IS AN IMPORTANT CONSIDERATION WHEN PURCHASING A REFRIGERATOR
Capacity is an important consideration when purchasing a refrigerator. Refrigerator space is measured in cubic feet (cu. ft.), which is determined by the height, width, and depth of the unit. Generally speaking, you need 4 to 6 cu. ft. of fresh food storage for every adult in your household. Therefore, an average family of four needs 18 to 24 cu. ft. of storage. To ensure you get the right capacity to suit your lifestyle, take both the size of your family and your eating habits into account. Do you eat out often? If so you might need a bit less space. Do you cook most of your meals at home? Then you should consider a refrigerator with plenty of fresh food storage.
FULL-SIZE REFRIGERATORS
Full-size refrigerators usually measure from 30" to 36" wide and have more than 30 cu. ft. of storage. The majority of households use full-size refrigerators.
APARTMENT REFRIGERATORS
Apartment refrigerators are smaller than full-size refrigerators and usually measure less than 30" wide with less than 12 cu. ft. of storage. Also available are models that are narrower but taller than standard refrigerators. These models provide additional capacity in tight spaces.
COMPACT KEGERATORS
Compact refrigerators are your best bet when space is limited. This size is ideal for a dorm room, small office, bar area, or under-the-counter location and generally has about 5 cu. ft. of storage.
SIZING YOUR REFRIGERATOR
The first and most important step in purchasing a refrigerator is getting accurate specs of the space your unit will occupy to ensure a proper fit.
HEIGHT
Measure from floor to top of hinge. Allow 1" clearance.
DEPTH
Include possible condenser coils behind the fridge. Do not include door/handles. Allow 1" clearance.
WIDTH
Add door depth to refrigerator depth to allow for an open door.
STEP 1.
Measure the height, width, and depth of the opening where the refrigerator will go. For proper ventilation, allow at least an inch of space between the unit, walls/cabinetry, and surrounding sides (poor ventilation will affect unit performance). Repeat this to ensure your measurements are correct.
STEP 2.
Measure your home's entry and the narrowest doorway/hallway the refrigerator will have to move through to reach the place you plan to install it. You don't want to purchase a unit that won't fit through your front door.
STEP 3.
Check that the appliance you're considering fits the measurements you took in Step 1.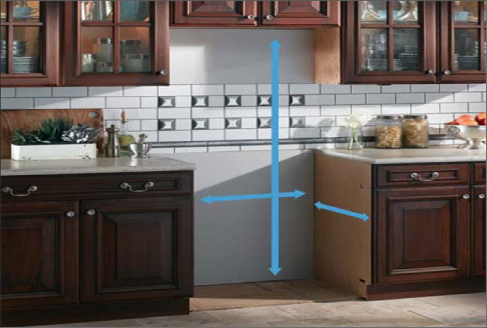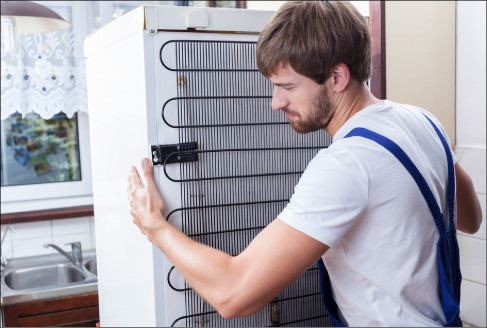 SIZING TIPS & CONSIDERATIONS
Consider space for the door to swing open to 90° and how it opens into the room, plus space for hinges, cleaning, and leveling. French Door or Side-by-Side refrigerators are good choices for narrow clearance.
The best location is a place that is not overly exposed to heat from other appliances. The ideal ambient temperature is between 55°F and 110°F.
Make sure you have the proper electrical connection. A standard 115-volt, 60 Hz, AC-only, 15- or 20-amp fused, grounded electrical supply is required. It is recommended that there is a separate circuit that serves the refrigerator only.
Modern refrigerators supply ice/water dispensers, so make sure there is a connection to a water supply on the rear of the unit.
Will It Fit?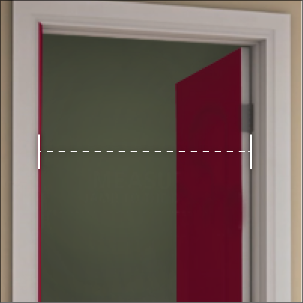 MEASURE DOOR(S)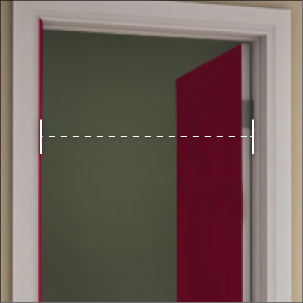 REMOVE DOOR(S)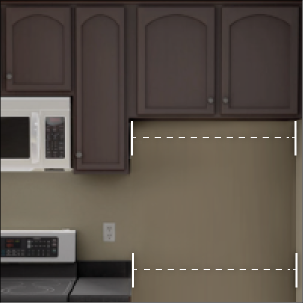 MEASURE WIDTH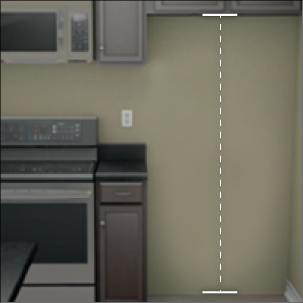 MEASURE HEIGHT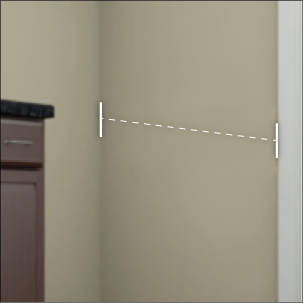 MEASURE DEPTH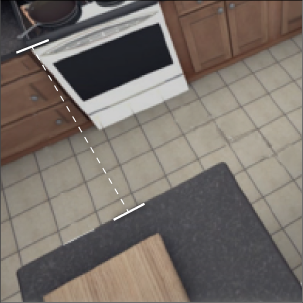 MEASURE CLEARANCE FOR PATH
Refrigerator Installation, Use, and Maintenance
YOUR NEW REFRIGERATOR
Follow the easy checklist below and consult the manufacturer's manual for specific instructions on how to safely install your new refrigerator.

TRANSPORTATION
Keep your refrigerator upright. Slight tilt is acceptable when moving the unit, but do not place it on its side.
When transporting, use a dolly padded with blankets to protect the refrigerator.
LOCATION
The refrigerator should be placed where a temperature between 55°F and 110°F can be maintained.
Do not install the refrigerator adjacent to a heat source (i.e. stove, oven, dishwasher, etc.).
Keep at least a 1" of space between the unit and walls and cabinetry on all surrounding sides.
ELECTRICAL POWER
Use a 115-volt grounded receptacle.
WATER SUPPLY
Water supply is connected to the inlet. Ensure there are no leaks on the supply connection or the appliance's inlet connection.
POSITIONING
Place carpet strips (pile-side down) under refrigerator legs to slide it safely into place.
LEVELING
Keep the refrigerator level, allow for self-closure to occur when the door is ajar at a 45° angle.
Energy Star Refrigerator
THE ENERGY GUIDE LABEL?
The sample below from the Federal Trade Commission explains what can be learned from the Energy Guide label:
1. Key features of the appliance you're looking at and the similar models that make up the cost range. The cost range helps you compare the energy use of different models by showing you the range of operating costs for models with similar features.
2. The cost range helps you compare the energy use of different models by showing you the range of operating costs for models with similar features.
3. The national average cost of energy. The cost appears on labels for all models and brands to compare energy use just like you would compare the price of other features.
4. How much electricity the appliance uses in a year based on typical use. Multiply this by your local electricity rate on your utility bill to better judge the actual operating cost.
5. The ENERGY STAR® logo means the product is better for the environment because it uses less energy than standard models.
6. Make, model, and size tell you what product this label describes.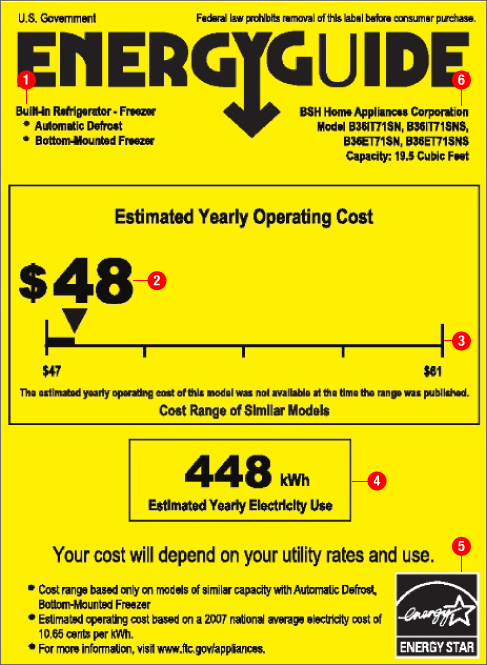 Earning the ENERGY STAR® means products meet strict energy
efficiency guidelines set by the US Environmental Protection Agency. By choosing ENERGY STAR® it's easy for you to identify and purchase energy efficient appliances that help save on energy bills without sacrificing performance, features, and comfort.
If you're shopping for a new appliance it's important to make sure you look for the Energy Guide label. That's the yellow tag you'll find attached to most appliances. It lets you know how much energy an appliance uses. The more energy efficient an appliance is, the less it costs to run, and the lower your utility bills might be. Equally as important is that by using less energy, you can help reduce air pollution and conserve natural resources.
Energy Guide labels are not all the same (rather, they are specific to a type of appliance). However, they all provide a way to compare the energy use of similar appliances. Look for these labels on clothes washers, dishwashers, refrigerators, freezers, window air conditioners, ductless heating and cooling systems, and dehumidifiers. Energy Guide labels are not available on ranges, ovens, or clothes dryers because they consume large amounts of energy.
So help yourself (and help save energy and water) by cashing in that clunker and upgrading to a new ENERGY STAR® appliance.
AVERAGE ENERGY STAR SAVINGS BY APPLIANCE TYPE
According to ENERGY STAR®, you can cut your utility bills with a certified appliance compared to standard models. Average savings are:
Dishwashers: 10% more energy efficient and 20% more water efficient
Refrigerators: 15% more energy efficient
Freezers: 10% more energy efficient
Washers: 20% more energy efficient and 35% more water efficient
Room air conditioners: 10% more energy efficient
Ductless heating and cooling systems: 30% more energy efficient
Find out how much you'll save with this Savings Calculator
Website for Federal Tax credits for purchasing energy efficient appliances
Keeping Refrigerated Food Fresh
STORING YOUR FRESH AND FROZEN FOOD ITEMS
You can buy a brand new fridge with the best storage features, but to keep your food optimally fresh, it's important to know (1) what temperatures to store your food at and (2) how long you can safely store different types of foods.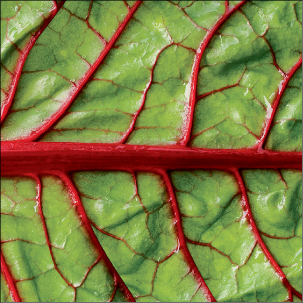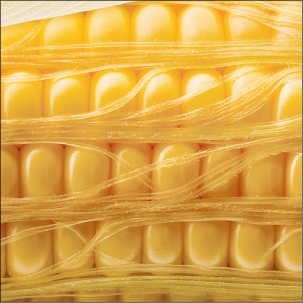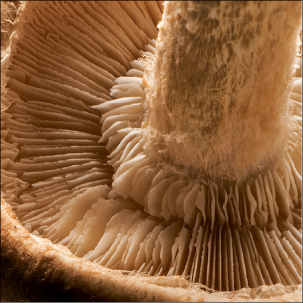 FRESH FRUITS AND VEGETABLES
Fruits and vegetables often require special storage conditions. Some fresh fruits need especially low temperatures and high humidity to slow down the ripening process and prevent premature decay. If you store a lot of fruit and vegetables, it is important to have a refrigerator with humidity-controlled crisper drawers so you can set the optimal storage conditions.
1. TEMPERATURE
Most vegetables, apples, and berries should be stored around 32 °F. However there are many fruits that should be stored at between 40-55 °F, including citrus fruit, melons, and tropical fruits, as well as eggplant and squash.
2. HUMIDITY
The majority of fruits and vegetables thrive in high humidity environments (85% or higher), however there are exceptions. Pumpkins, squashes, peppers, garlic, and onions thrive in drier conditions and should not be stored with high humidity foods.
3. ETHYLENE GAS
Some fruits and vegetables give off a high level of ethylene, a ripening agent that can speed the decay of ethylene-sensitive produce. Make sure that your ethylene-emitting produce is stored in a separate compartment from ethylene sensitive foods.
ETHYLENE-EMITTING PRODUCE
Apples, Apricots, Avocados, Bananas, Cantaloupe, Guavas, Kiwi, Mangos, Melons, Honey Dew, Nectarines, Papayas, Peaches, Pears, Plums, Prunes, Quinces, Tomatoes
ETHYLENE-SENSITIVE PRODUCE
Apples, Apricots, Asparagus, Avocados, Bananas, Basil, Beets, Bok Choy, Broccoli, Brussels Sprouts, Cabbage, Cantaloupe, Carrots, Cauliflower, Celery, Cucumbers, Eggplant, Grapes, Green Beans, Green Peas, Guavas, Herbs, Kiwi, Leeks, Lettuce, Mangos, Melons, Mushrooms, Okra, Papayas, Parsnips, Peaches, Pears, Peppers, Persimmons, Plums, Potatoes, Precut Vegetables, Prunes, Pumpkins, Radishes, Salad, Mixes, Sprouts, Squashes, Sweet Potatoes, Tomatoes,Turnips, Watermelon
Of course, even at ideal temperatures, you need to closely monitor how long you store your food. Closely follow "Sell By" dates on your food, especially meat and dairy. Try to eat leftovers within 3 to 4 days of refrigerating them, as the longer you leave them after that, the greater the risk of contamination
LIFE SPAN OF FROZEN FOODS
Your freezer should generally be kept at 0 °F. This helps ensure the food is kept cold enough to prevent the growth of harmful bacteria and adequately preserves your food. Most frozen foods will keep for at least one month, and some foods last up to months at a time. The type of foods in your storage will determine the food's freezer life. Generally, uncooked food lasts longer than cooked food.
Fresh steaks and roasts: 6-12 months
Fresh lean fish: 6 months
Fresh fatty fish: 2-3 months
Fresh shellfish: 4-6 months
Breads and pastries: 3 months
Ice cream and sorbet: 2 months
Soups and stews: 2-3 months
PREVENTING FREEZER BURN
Freezer burn is caused by exposure to oxygen, specifically when water molecules in the outer layers of the food evaporate into the freezer air and leave dry spots behind on the surface of the food. Reduce the chance of freezer burn by following these tips: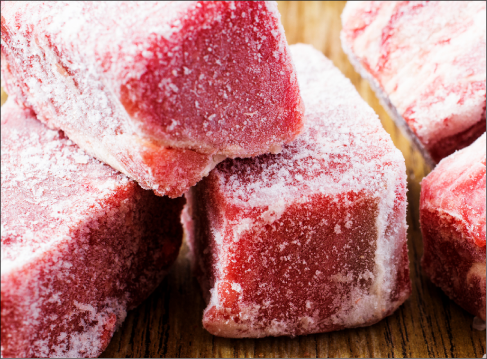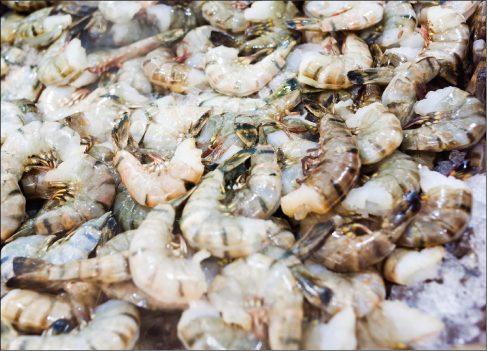 Vacuum-wrap your produce or wrap it tightly with plastic wrap, wax paper, or aluminum foil to eliminate as much air in your packaging as possible.
Use extra wrapping if you plan on storing your food for more than a few months.
Reduce temperature fluctuation in your freezer, as this can encourage water molecules to spread and sublimate.
Label frozen items to keep track of how long you've stored them. Freezer burn can be delayed if your food is well packaged, but it will develop on anything stored in the freezer for an extended period of time.
Maintaining Your Refrigerator
HELPFUL TIPS
If you maintain your refrigerator well, it can serve you and your family for years to come. Here's how:
VACUUM YOUR REFRIGERATOR'S CONDENSER COILS
Condenser coils are vital for keeping your refrigerator cool. Over time, build-up of dust within the coils can negatively affect their performance. Neglecting to maintain your coils could mean a shorter lifespan for your refrigerator. To clean the coils, pull the refrigerator away from the wall and vacuum them with an ordinary home vacuum cleaner. You can also purchase a coil brush for under $10 to give them a more thorough scrubbing. Owners should clean their refrigerator's coils at least once or twice a year; households with pets should clean them more regularly.
CHECK DOOR SEALS
A loose door seal means cold air is constantly escaping from your refrigerator. Owners should check the seals regularly with this simple test: Insert a dollar bill between the door seal and the refrigerator case and close the door on the dollar. If the dollar is easily pulled loose, then it's time to replace the seal (which can be ordered from the manufacturer).
REPLACE THE WATER FILTER
To avoid a foul taste in your ice and water, change your refrigerator water filter every 6 months. By using the same water filter for too long, you run the risk of unhealthy mold build-up. Certain models feature a Filter Indicator that alerts you when it's time for a replacement. For all other models, follow the six-month rule for clean, fresh filtered ice and water.
EMPTY THE ICE MAKER
Ice can absorb odors in your freezer and affect not only the smell of your freezer but also the taste of your ice. Completely empty out your ice maker once a month and wash the ice bin with a simple solution of 1 quart of water and 4 tablespoons of baking soda.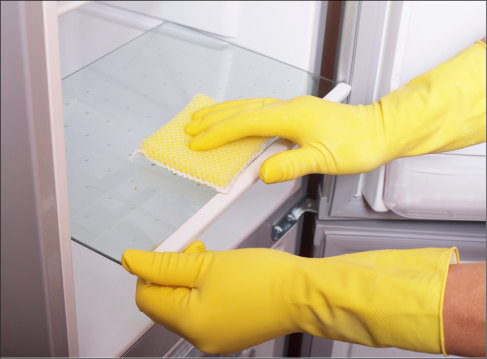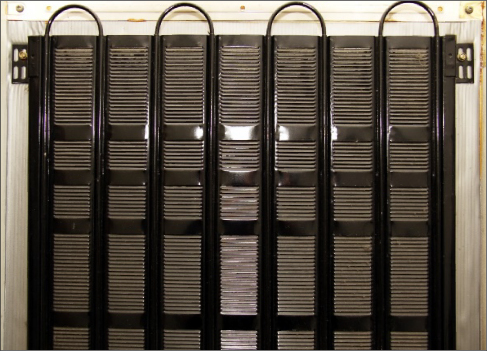 CLEAN THE INTERIOR WEEKLY
Give the inside of your refrigerator a weekly cleaning using a simple mixture of equal parts warm water and vinegar (or a household cleaner of your choice).
It's also important to regularly clean the door seals. With the same water and vinegar solution, use a toothbrush to scrub the grime in the hard-to-reach crevices of the seals.
Keep an open box of baking soda – which helps absorb and neutralize odors – in the fridge to keep your refrigerator smelling fresh. Be sure to replace the box every 3 months.
Check out our curated series of videos that feature a variety of refrigerators to meet your kitchen appliance needs.
ADJUSTABLE SHELVES
Adjustable shelves offer more storage capacity, versatility, and better visibility of items on all levels.
DUAL-COOLING SYSTEM
Dual-cooling system means the fresh and frozen food sections of the refrigerator have separate cooling systems and don't share air, ensuring ideal temperature and humidity conditions in both areas.
CLIMATE-CONTROLLED DRAWERS
Climate-controlled drawers allow you to control both the temperature and humidity within each drawer to best suit the foods they contain.
ADJUSTABLE DOOR
Adjustable door storage bins save shelf space. Some models can even fit gallon jugs.
REFRIGERATOR THROUGH THE DOOR
WATER AND ICE DISPENSERS
Once a convenience feature for a quick glass of water or ice, today's technology has so much more to offer. Take a look at how far through-the-door dispensers have evolved and you'll see many new easy-to-reach choices to enjoy including sparkling water dispensers.
BUILT-IN WIFI LCD SCREENS
Built-in WiFi-enabled LCD screens have special apps for leaving notes, ordering groceries, displaying photos, staying organized, accessing recipes, streaming music and video, and getting the news and weather right from the fridge door.
DOOR-IN-DOOR
Door-in-door allows you to get in and out with easy access to beverages and snacks without opening the main refrigerator door.
AUTOFILL AND MEASURED FILL
AutoFill and measured fill allow you to set the dispenser to the specific amount of water required for your favorite sports bottle or morning coffee, press one button, and walk away. The water dispenser automatically stops once it dispenses the set amount of water.
KEURIG K-CUP
Keurig K-Cup, which is unique to GE, not only dispenses hot water for tea, but also includes an accessory that allows you to enjoy your favorite coffee and beverage selections by Keurig right from your refrigerator door.