Whether you're looking to re-design your laundry area or simply want to replace your old washer and dryer, Memorial Day is a great time to shop.
Key promotional periods always have the best deals such as Presidents Day, Memorial Day, July 4th, Labor Day, and Veteran's Day. If you're looking to find a great price, you'll find special promotional deals and rebates during these holiday periods.
Important considerations before you buy a new washer and dryer

Measure the delivery path and new appliance area to make sure that your new appliance will fit. You can Avoid costly mistakes and returns by measuring all spaces and verifying all connection points such as the electrical plug, gas line, and plumbing before you make a purchase. If you're unsure, you may want to consider a fit survey before you take delivery and have one of our experts confirm the important details.
To install your new washer and dryer safely, make sure to buy the required installation kits at the same time you purchase your appliances. Hoses, vent pipes, steam kits, pedestals, or stacking kits are carefully matched to ensure you have the correct parts. At AJ Madison, we insist that new hoses and hookups are required when replacing your washer and dryer for your safety. If you're not handy, you may want to consider purchasing installation services when you purchase your washer and dryer. It definitely saves time and money having your appliances delivered and installed at the same time.
We're often asked if purchasing a warranty is worth it. It may seem counterintuitive, but extending your warranty can help you save a lot of time, money, and hassle in the long run. One service call could cost you over $200 and that's before they fix anything. Extended service plans take the stress out of the unexpected and let you enjoy your new appliances worry free. If you're unsure or unable to make the investment now, at AJ Madison you have up to 9 months to extend your warranty after you purchase your appliances. In addition, if you never use the extended warranty you purchased you will get 50% of the cost back.
Best washer dryer packages for Memorial Day 2019
It's always a good idea to buy proactively and early. Sale periods only last a few days and as the sale goes on, inventory becomes tighter. Rebates are a great way to save more money when purchasing a new washer and dryer. Typically they are offered as mail-in rebates that can be claimed online.Check out this year's best washer and dryer deals!
Best Deals under $1500
Whirlpool Traditional Top-Loading Washer and Dryer
Noteworthy features:
Two-Way Wash Action Agitator
Give your clothes a deep yet gentle clean with the two-way wash action agitator, which turns one way while the basket turns the other, for a cleaning motion that moves fabrics smoothly through the wash.
Soaking Cycles
Soak and wash in one step. Skip a trip to the bathroom sink with soaking cycles that start washing whites and colors as soon as they're done soaking.
Quick Wash Cycle
Wash a small, lightly soiled load in as little as 30 minutes with increased spin speeds to remove more water so clothes can spend less time in the dryer
Electrolux High-Efficiency Front Loading Washer and Dryer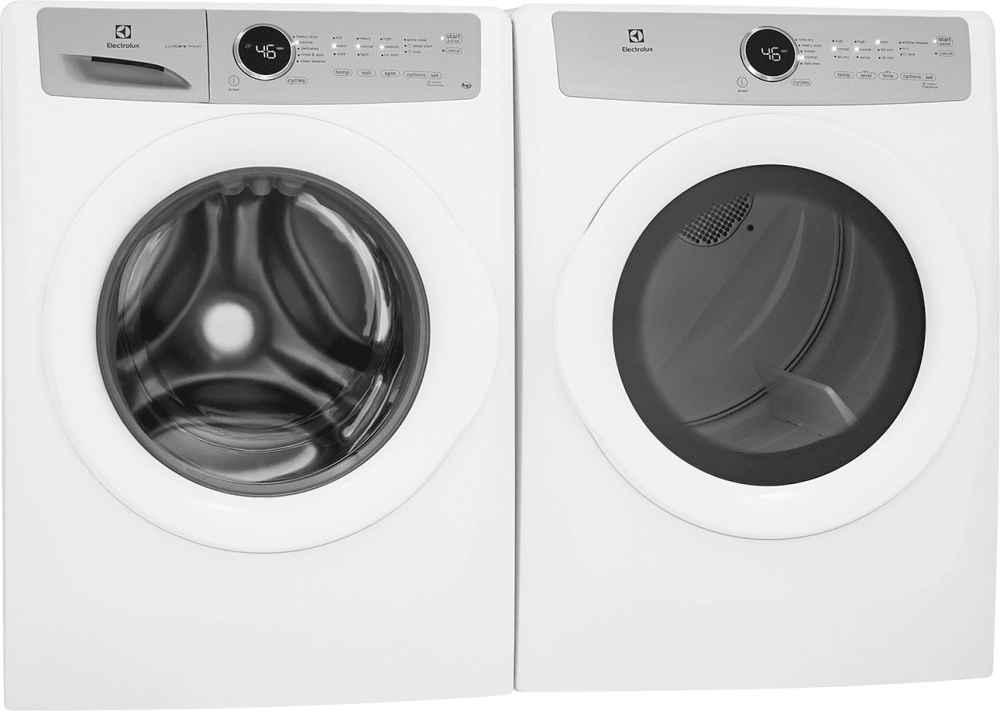 Noteworthy features:
LuxCare™ Wash System
Electrolux's LuxCare™ wash system offers a thorough clean by combining powerful wash actions, precise temperature control and smart load sensing.
5 Washer Cycles
Heavy Duty, Normal, Delicates, Rinse & Spin and Clean Washer.
5 Cycles
Timed Dry (Auto, 60 Min., 30 Min.), Heavy Duty, Towels, Normal, Delicates
Best deals under $2000
LG High-Efficiency Front-Loading Smart Washer and Dryer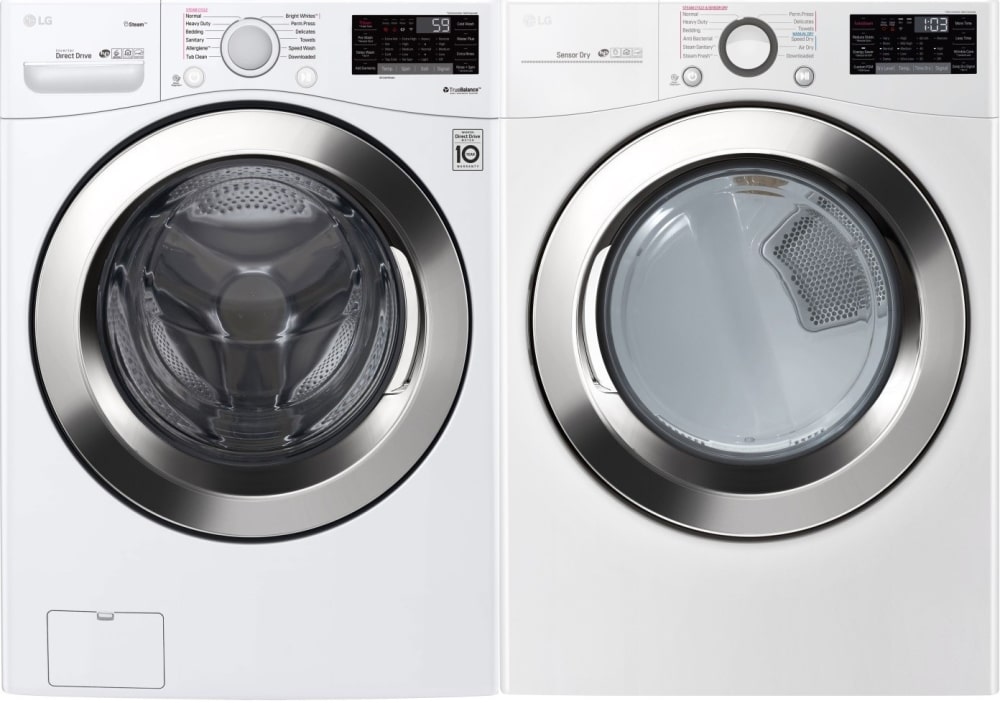 Noteworthy Features:
Wi-Fi Connectivity / SmartThinQ®
Select a cycle, start or stop the wash and get notifications about when your laundry will be done, all from your smartphone.
SmartDiagnosis™
Helps the service center diagnose problems over the phone, or with a simple app on your smartphone, helping you minimize costly, inconvenient service calls.
Voice Activation
Works with the Google Assistant and Amazon Alexa, so you can manage your laundry with simple voice commands.
Whirlpool High-Efficiency Top-Loading Washer and Dryer
Noteworthy Features:
Adaptive Wash Technology With Active Bloom™ Wash Action
For an accurate clean can be achieved with Active Bloom™, an adaptive wash technology that senses the size and type of each load and adapts the appropriate water levels and wash actions.
Built-In Water Faucet
Prewash clothes and other items in the washer with a conveniently located interior faucet that gives you easy access to an instant water stream to remove loose soils.
Deep Water Wash Option
This option fills your washer to the highest water level to help rinse away loose soils
Best deals under $2500
Samsung High-Efficiency Smart Add-Wash Washer and Dryer
Noteworthy Features:
AddWash
Conveniently add in forgotten laundry after the cycle has begun with the AddWash door.
Smart Care
Monitor and manage your washer remotely by troubleshooting problems right through your smartphone.
Super Speed
Wash a full load in 36 minutes.
Not exactly what you're looking for?